Here are the Services that I currently offer:
One on One Holistic Health Counseling
Holistic Health Counseling is my medium- my way of helping you help yourself.
We work with food, lifestyle, relationships, career, spirituality, exercise and much more.  If you think you'd like to check this out or want to talk to Annette more about this, please check out my FAQ to answer your immediate questions and then contact Annette through email or use the Contact form.

Please click on the above link to get more information on One on One Counseling.
Personalized Exercise Program Design
When it comes to living a healthy life, exercise and movement will always find a way in.  Let me make it a little easier for you.
Private personal training can be costly and time consuming.  I know it.  I started off as a Personal Trainer and I've seen clients day after day, hour after hour, exercise after exercise.  While it's great to have the immediate support and feedback, sometimes it's also great to feel independent and comfortable taking care of yourself.
Let me help you regain that freedom for yourself by designing a Personalized Exercise Program that takes into account your individual needs, goals, injuries or pre-existing conditions and offers you variety and the knowledge of a Certified Fitness Professional with over 10 years of experience.
I offer three different packages to fit your needs and your budget.
Please click on the link above for more information on your Personalized Exercise Program Design.

Coming soon!
With this link, you'll be able to search through my client testimonials for my private one-on-one counseling, my live events and teleseminars as well as my products and newsletter articles.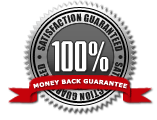 All of Annette's services are backed by her 100% Satisfaction Guarantee.  If you feel like you have not gotten any value from the work you have done together, please contact Annette for a refund.