There are things you use, things you say you use, things you never want people to know that you use and things you know you probably should be using.
The following is a list of things that I use and wholeheartedly endorse.  I will stake my reputation on any and all of the below products, events and people.  They are my mentors, my "guru's" and all around amazing people.
Ready for the Cool Stuff?  Here you go!
Before you get started, know that all the pictures are click-able links!



Ali Brown's "Boost Business With Your Own Ezine" System

I had heard about Ali Brown in the Spring of 2008. Ever curious, I first signed up for hernewsletter and then started looking at what
she really did.
I came upon this product and was a little apprehensive. What would I actually get from it?  Was it worth the price?
My answer?

Amazing is only one word, but it would be very appropriate.
If you are looking to market yourself through an online newsletter or E-zine, then this is THE product that you need to get.  Her strategy is easy to follow, easy to implement and non-gimmicky.  She remains up to date on all of her material and is constantly on the look-out for the best in marketing, both online and off.
Ali Brown's "Online Success Blueprint® System"
This is the "play at home version" of Ali's renowned Online Success Blueprint® Workshop, featuring full DVDs of the entire event. Created especially for coaches, consultants, authors, speakers, and other solo-preneurs, this one-of-a-kind, 7-step program walks you through Ali's entire simple system to use the Internet and information products to skyrocket your profits AND your free time.
I was Ali's last ever Online Success Blueprint Workshop in November of 2008.  You will not be disappointed with anything!  The material was top-notch, the speakers were engaging and knowledgeable but best of all, you walked away feeling like you more than made up your investment to be there.
I learn something new every single time I listen to the CD's that I can put into practice right now.
Ali Brown's Beyond the Blueprint®

How would you like to learn the specific strategies Ali used to bring her business into the high 6-figures and beyond to reach multiple 7-figures? It's all in her Beyond the Blueprint program.
Add multiple streams of income to your current business, including teleseminars, affiliate programs, masterminds/retreats and more.
This is a brand spanking new addition to Ali's line-up of spectacular products.  I added it to my arsenal recently and I am not sorry for making this investment!
The Silver Mastermind Mentoring Group with Ali Brown
The Silver Mastermind is the entry level of membership and a great way to have ongoing access to Ali at an affordable rate. Enjoy monthly group calls with Ali highlighting marketing and success topics designed to move your life and business forward. You'll receive online digital audio recordings of each call as well. You'll also receive Ali Magazine, delivering tips on business, style and life that Ali shares nowhere else!
It is getting increasingly difficult to have face-time with Ali Brown not to mention requiring an increasingly significant investment in time and money.  Her Silver Mastermind Program is a perfect way to test out Ali Brown, her programs and her services.
Her magazine is amazing as well and sure to be the jump-off point of many amazing things to come!
The 7 Mindset & Manifesting Secrets of Multimillionaire Entrepreneurs
Would you like to transform your life to one of prosperity and ease… without any more struggle or heartbreak? Then you want to get your hands on this life-changing course with both Ali Brown and mindset master David Neagle. On this multi-part audio series, they'll take you to new depths of understanding in how to tap into faith to help manifest miracles in your life over and over again — whether it be clients, sales, money, opportunities, or love.
You can learn all the business strategies in the world, but you'll get nowhere if you don't have your mind and heart in the right place. If you're ready to learn more, get your copy to attract more money, miracles, and joy into your life.
This was an amazing course that happened to fall into my lap in the Summer of 2008.  I am constantly replaying the audios from this course over and over again and I'm amazed by how much I'm still learning.
Ali Brown & David Neagle are two of my most favorite coaches of ALL TIME!  Pardon my excitement but this course is a MUST HAVE if you want more out of your life but your mindset and negative self-talk is getting in the way!
The Website Creation Workshop with Christina Hills
Ready for a website that's easy to create, that YOU have control over, that releases you from the grips of your webmaster, and is a magnet for search engines? Now you can have it all! Simply join Internet Expert Christina Hills in a hands-on, Virtual Website Creation Workshop that shows you step-by-step exactly what to do with the support of Christina and her professional team.
I took this course in the Spring of 2009 and within 10 weeks I had a brand new website that I not only designed myself but one that reflects who I am and the business that I do.  Best of all, it was much easier than whipping out a credit card and instructions for someone else to do it for me.  If you're ready to take back your website and have it look and say what you want it to, then Christina Hills is the person you need to talk to!
Just a heads up, Christina only runs this course twice a year so get on her list now so that you can get all the info you need!
Fabienne Fredrickson's  "The Client Attraction Home Study System™  "
Fabienne will show you step-by-step exactly what to start doing—and stop doing—in your marketing, in order to have more clients, consistently, starting today. (By the way, that also means making more money than you're making now.) It's all outlined in the "Client Attraction Home Study System™" for you to start using immediately.
This was one of the very first products that I ever picked up and I still use it.  Fabienne is truly talented in bringing out the best in you and she's a real person too!  I've met her several times over the last few years and have loved watching her business explode over the last year.
If you need to figure out where to start and where to go, then this the product for you!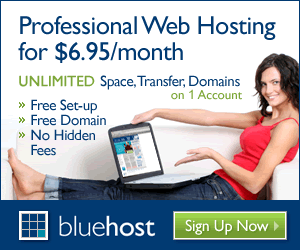 BlueHost Professional Hosting